The AYA Family
History of Alec Young Associates Ltd.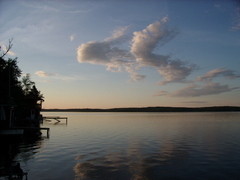 Alec Young began working with Manitoba Conservation in 1973. During his spare time he starting started painting and cutting trees etc for various people. Someone approached Alec to do some construction work for them. He enjoyed the work and so much that he started to take carpentry and woodworking courses during 1974 and 1975. In 1975 he returned to the Falcon & West Hawk Area and started a small construction company known as Alec Young Construction. Paul and Tom worked for the company for many years and when Alec and wife, Theresa, wanted to sell their business, Paul and Tom decided to form a partnership and bought the company in 2000, changing the name to Alec Young Associates Ltd. They continued to operate out of Alec's yard. In the spring of 2007, a new shop and office were built at Penniac subdivision, West Hawk Lake. Most of our employees are local to the area and enjoy lake living as much as you do!
Tom Tod
Tom is a partner in Alec Young Associates Ltd. and has lived in the West Hawk area most of his life. His family moved to West Hawk Lake in 1955 and shortly after his father started the Tod Lumber business. Now he lives with his family in Kenora, Ontario.
Tom began his carpentry career working with Alec Young Construction in 1982. He graduated from Red River Community College in 1990 with an Inter-Provincial Journeyman Carpenter license.
Paul Wanke
Paul Wanke is a partner in Alec Young Associates Ltd. and has been in the area since 1988 and currently resides with his family in the Toniata area. Paul grew up in south-east Manitoba at Wanke Corner.
Paul started working with Alec Young Construction in 1987. He attended Red River Community College and received his Inter-Provincial license as a Journeyman Carpenter in 1992.
Paul has his pilot's license and enjoys spending time flying and fishing with his family.